Details
Why We Love It: The Infant Seat Insert is a great option to make the Mockingbird Stroller ready for your infant. It creates a flat seat position with extra head and neck support that allows your newborn to safely enjoy the stroller seat.

What's Included: The Infant Seat Insert is made up of three pieces: the Seat Liner, the head rest, and the wedge insert. You can also use the Seat Liner alone later on, as an extra machine washable layer of mess protection for the stroller's toddler seat.

Age Guidelines: Your little one is unique, and so is the rate at which they develop! Initially, you'll need to use all three pieces of the Infant Seat Insert with the seat fully reclined. When your child begins to support their head unassisted, typically around 3-4 months, you can consider removing the wedge while still keeping the seat fully reclined. You'll want to continue to use the Seat Liner and head rest until your kiddo can sit up by themselves, which typically happens around 6-7 months old. When you're seeing this milestone, your child is likely ready to sit in the seat without the Infant Seat Insert, though we always recommend making these decisions in partnership with your healthcare provider.

Cleaning: We use durable materials so that dirt, spills, and food can be removed effortlessly by wiping with a damp cloth and mild detergent if needed. For bigger messes, machine wash and tumble dry on low (for the seat liner and head rest pieces only).
Reviews
Customer Reviews
Write a Review
Ask a Question
Filter Reviews:
stroller
baby
insert
infant insert
car seat
Mockingbird
walks
newborn
bassinet
support
07/15/2022
Rachel C.

United States
A must have!
We originally purchased the carriage for our infant seat choice, but when planning a zoo trip I decided I'd rather have the seatbelt function of the seat for safety. So we ordered this and it arrived so quickly! I love that I can ditch the triangle support in a while and still use the rest as a seat protector to help combat mess!
07/07/2022
Jennifer R.

United States
Love this Insert!
My 5 month old loves this seat and so do I! We used it in a busy airport. We use it for walks and also around the house when I need to be hands free. The three different positions offer so much flexibility. When my baby falls asleep I recline it completely. I love that the stroller folds with the insert attached. Thank you Mockingbird! Well done!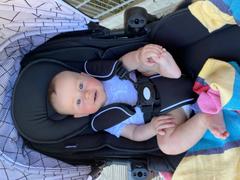 01/07/2022
Sruthi S.

United States
Infant seat
Overall very comfortable and fits easily. Installation was very simple.
12/30/2021
Lily H.

United States
Super Easy!!
The insert is super easy to install to the stroller, this is definitely an advantage point of the mockingbird stroller! It goes together in just minutes, and they're instructions are super easy to follow! The inserts are just like ones you'd put in a car seat!! My preemie babies fit in there well, but will fit in there better when they're a little bigger! Super happy with my purchase!
11/21/2021
Talene C.

United States
Thumbs up for the insert
The infant seat insert holds our newborn comfortably and safely. Very glad we purchase it.
11/18/2021
Marissa W.

United States
Perfect!
Admittedly I didn't think this infant seat insert was something I needed, but upon purchasing it I noticed my baby was much more content in the stroller! We went for daily walks during maternity leave and my little guy loved it just as much as I did thanks to this insert! Super easy to put into the stroller and when it's time to take it out, will be super easy to do so as well!
11/17/2021
Maria P.

United States
Very convenient and comfortable
This insert is perfect for my baby! He was super tiny when born but gained weight pretty quick so I was hesitant to buy the carriage so I went with the insert instead. I'm so happy I did! He falls right to sleep while in it and I love that it gives his head support. I love everything about the stroller and especially the accessories! Would 100% recommend especially if you don't get the carriage it's perfect for newborns!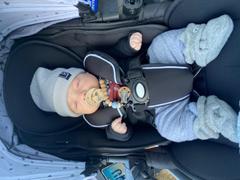 11/13/2021
Chanayle G.

United States
Infant Insert
The insert works great! Our baby instantly cheers up when we put her in the stroller. She loves it!