Free shipping & returns.

Try it risk-free for 30 days.

Customize your ship date.

Lifetime warranty.
Grows with your family
Solo
5+ arrangements for one child
Sibs
13+ arrangements for two children
Squad
Room for three, coming soon!
Shop 2nd Seat Kit
Looking for the Mockingbird Single Stroller?
Our Single Stroller model with one-seat capacity is available for a lower price.
View Single Stroller
Street style, meet street smarts.
Two-Seat Capacity
Pair your stroller with our 2nd Seat Kit to accommodate multiple children. With 18+ arrangements and 45 lb capacity in each seat, you'll always be able to find a comfortable position for your kids to enjoy.
Canopy
Meet our new extendable UPF 50+ all-weather canopy. Our multi-purpose design includes a magnetic see-through peekaboo window, a mesh panel for optional airflow, and even comes with an attachable full coverage sunshade. High contrast black-and-white patterns on the canopy interior are designed to promote early childhood visual development (and they're cute, too).
Frame
Our stroller can be folded with one hand—with or without the seat attached—and it automatically locks and stands upright when folded. The dual frame and seat suspension work together for smoother strolling and a more stable ride, and the handlebar rotates to accommodate parents of different heights.
Wheels
Go-anywhere wheels mirror the smooth ride of air tires, minus the potential to pop or go flat. A one-step footbrake and front-locking wheels mean you're equipped for almost any surface.
Modular System
Our stroller can easily switch between forward-facing and parent-facing modes, and interchange with our Car Seat Adapter or Carriage.
Basket
A generously sized basket holds all the essentials up to 25 lbs. A detachable front cover gives you the option of extra protection or easier access.
Thoughtfully designed, rigorously tested.
Support & Security
We test to ensure that your little one is safe in all upright and reclined positions, and that our locking and latching mechanisms are secure. Also, our products undergo chemical testing against both federal and state child safety limits.
Frame
The irregular surface test simulates walking over bumps for 72 hours; we test for a period of 300 hours. (That's a lot of coffee runs, right?) Our stroller also undergoes repeated impact and 10,000 simulated sidewalk curb maneuvers to ensure it can withstand any knocks and bangs that may come.
Reflective Lining & Trim
Our strollers feature strategically placed reflective material on the front of the basket and back of the seat to improve nighttime visibility. After-dark walks might just become your new favorite activity.
Wheels & Brakes
We test our brake mechanisms on both flat and inclined surfaces. We also assess the strength and stability of our wheels, even spinning them against sandpaper for miles on end to guarantee they'll stand the test of time.
Reviews
Customer Reviews
Write a Review
Ask a Question
Filter Reviews:
stroller
Mockingbird
baby
seat
price
quality
everything
customer service
single
daughter
08/20/2021
Katie R.

United States
3rd stroller
Choosing items for your baby registry is a total gamble! I had absolutely no idea what features I wanted in a stroller and when you are a first time parent you truly don't know what to look for. Prior to becoming a mom I had never taken a baby on a walk or used a stroller, I had no clue what I should be looking for. I registered for a Chicco Bravo Travel System and although I enjoyed the stroller, it lacked many features I had not known about when making the decision. We had also been gifted a Graco stroller which again lacked some convenient features. A few close friends had the UPPAbaby which is commonly referred to as the cadillac of strollers due to its quality and features. The item is on the higher end price scale so if you are looking for a comparable stroller (literally - its almost the same item) for a much MUCH more affordable price, let me introduce you to my new obsession, my MOCKINGBIRD. Price: Mockingbird single to double $495 VS. UPPAbaby Vista V2 single to double $1,150-1,190 Single to Double Stroller The Mockingbird is a direct to consumer product which allows the price point to be much lower than the UPPAbaby and other high end strollers which are sold in retail stores. The shopping cart is extremely customizable featuring many color choices and patterns. The stroller comes in a single and single to double option and is shipped at no cost to your door. Test it out for 30 days and if you are not satisfied they have a risk-free return policy. Each stroller comes with the stroller frame, wheels, seat, canopy, child "bumper" bar and an AMAZING magnetic detachable sun shade. The single to double stroller is perfect for one child but allows the option for a growing family in the future. The second seat kit can be purchased for $120 including the seat, upper and lower adaptors. This price point is amazing compared to the UB additions costing $199 for the seat and $44 for additional adaptors. There are endless options for positions (19+ configurations) and a car seat adaptor can be purchased, which is compatible with most commonly used car seats. The second seat on the Mockingbird can hold up to 45 lbs. while the rumbleseat on the UB only holds up to 35lbs. Comfort and Ease One of the biggest reasons for wanting another stroller was the configuration options and comfort. Most days my daughter enjoys looking outward during our walks however there have been numerous occasions where she wants to face us and the reverse feature was not on many strollers when I was registering including the one I chose. This feature may be something very small but it makes a world of difference!!! The seating arrangements can be adjusted in seconds with a quick button of a push and recline is easy and adjustable with one hand. One of my favorite features is the footrest. While we were going for our walk, we noticed just how important the adjustable footrest is. My daughter has thrown numerous toys and bottles but instead of them falling to the ground, the footrest caught it. The zip feature also offers an easy cleanup from crumbs when your kids start snacking. Historically we always hit a breaking point on our walks and this stroller seems to supply extra comfort and has provided numerous cozy nap sessions and an extended walk time. The stroller can stand independently and has a one handed close option. Additional factors that make this stroller so great: extendable UPF 50+ canopy, pop proof tires, one handed release on 5 point harness and front locking wheels which help on gravel, grass and sand. This locking feature helps prevent the wheels from swiveling all over on those bumpy walks and terrain. Storage Storage is HUGE when traveling with a tiny human. The Mockingbird has ample storage space with a generously sized basket that can hold all the essentials up to 25 lbs. The basket even has a detachable front cover which can give you the option of extra protection or easier access. The UB basket holds 5 more pounds however it has a huge bar that runs through the center of the basket which can minimize some storage space. The Mockingbird has successfully held all items I have needed with ease and has a convenient hidden side pocket in the basket for more personal items to be kept out of site. The seat features a small pocket on the back for parents to store their phone or keys. Accessories Mockingbird has a wide variety of additional accessories that can be purchased on the website to enhance your ride. Carriage/bassinet Car seat adaptor Infant seat insert Second seat kit Cup holder Snack tray Parent organizer Seat liner Rain cover Footmuff Hand **** Mosquito net Squad Board for third child (coming soon) Pattern canopy for visual development Rotating handlebar for adjustment My only regret with the Mockingbird is that I didn't have it sooner. Shoutout to Instagram for the advertisement, I am so happy I decided to click on it!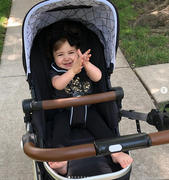 08/17/2021
Bethany S.

United States
Worth EVERY Penny!
From start to finish, our Mockingbird experience has been phenomenal. There were a few hiccups in our purchasing process (to no fault of Mockingbird), and they did everything to make our experience great. Stevie was a fantastic customer service rep. She stayed in constant communication with me, called me when there was an issue, and followed up to make sure everything was resolved. The stroller itself is THE BEST! We call it it "Cadillac" of all strollers! Rides so nice, folds up so nice, and is not that heavy. I have a Honda CRV and it fits in the back of my car with plenty of room to spare. We have not yet travelled by plane with it but Stevie was able to give me some great tips for traveling! If you are questioning this one and if it is worth the price, GO FOR IT! I promise, it is worth it! I have 4 month old twins and we purchased the car seat adapters (total lifesaver) and we love how the girls can grow with the stroller. If I could submit a 10 star review, I would!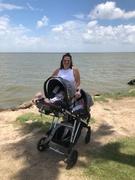 08/13/2021
Kelsie J.

United States
My mommy secret weapon
I absolutely love my mockingbird single to double stroller. I currently have a 1 month old and a 2 year old. For the baby I added on the bassinet attachment and I am so happy I did. We use it everywhere. It's so easy to pop her in and out. When we go to the lake, I disconnect it from the stroller and keep her in there with the uv ray attachment. People ask us about it all the time. It's so convenient. As doubles go, it handles really well and the one handed fold was a must have for me. It's also one of the few strollers that hold my big full diaper bag in thr bottom storage with ease. Oh and when my toddler gets crumbs everywhere... I can unzip or unbutton sections for easy clean up. Happy mom happy kids. Now I'm just waiting for that toddler board to come out!
08/13/2021
Phyllis M.

United States
Cute and mom friendly
The single to double stroller with the 2nd seat kit has been heaven sent. I am a mom a 3 with 2 under 2. This fits into the small trunk space of my Hyundai Palisade with the 3rd row UP! I do have to remove the seats before collapsing and putting in the trunk, but it's super easy and literally take 2 seconds to do. They click in and out of place. It is very light, and rolls very smoothly. Easy to maneuver and stylish. I love it. Was looking for something light, not bulky to travel with and this is it!
07/25/2021
Lys H.

United States
The Cadillac of strollers!
My husband called it "the Cadillac of strollers" he as a man was amazed at the suspension and the wheels it has. It glides like butter. And even with two (baby and toddler) in the stroller STILL glides through the grass and rough terrain so so so smoothly! The leather and th fabric quality is top notch! You can tell it's all out together so this fully and well. —- and lastly not to mention it is so in style and trendy! WE ARE OBSESSED! Smart money move also that it can be used for both kids and accessories and parts can be bought at different times when needed or even by different family members as a gift!
07/25/2021
Ashley H.

United States
Smooth ride, great stroller!
We love our mockingbird so far! Our neighborhood doesn't have sidewalks on every street so we are constantly going up and down curbs and in the grass and the Mockingbird handles the terrain like a champ! Our newborn is comfy in the bassinet attachment and we love storage space underneath and the storage bag accessory. After a TON of research, I am so glad I chose the Mockingbird!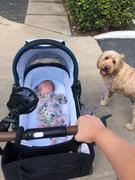 07/01/2021
Lauren W.

United States
The best stroller, best company
This double stroller is so perfect. I'm so incredibly happy with the functionality of it and the aesthetic as well. It's got that luxury look paired with affordable price. First of all the basket is deep and wide and easy to access which is like, one of the biggest things is look for in a stroller. The sun shades come down so far and stays put. Great vents in the sun shade for airflow and can be closed. Beautiful leather handles bars that easily detach. Easy to assemble and my kids love it so much.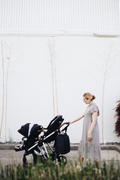 07/01/2021
alfreiny s.

United States
2 under 2
So I have 2 girls. They are 15 months apart abs I got this when one one 3 months and the other was 18 months. I love this thing. Seriously… love it. The car seat adapter lets me use the stroller with my chicco car seat which was important to me because I was not buying another car seat and I am not taking the little one out when she's finally asleep . I've gotten soo many compliments and Oo that's the other high end brand? I love saying nope it's a mockingbird and it only cost me $500. Seriously what mom doesn't love a deal?
FAQ's
See All
What's the difference between the Mockingbird Single Stroller and the Mockingbird Single-to-Double Stroller?

In 2019, we launched the Mockingbird Single Stroller, which rapidly became one of the most award-winning full-size models on the market. One request we frequently heard, though, was from parents with two stroller-age children: "I'd love to be able to add a 2nd seat!" So after months of interviews and a meticulous design & engineering process, we created the Mockingbird Single-to-Double Stroller, a version of our original stroller that can expand to two seats.

To check which stroller model you have, you can look at the product sticker on your stroller frame (it's located above the basket, on the left side of the metal frame when facing the back of the stroller). It will read "Mockingbird Stroller" if it's a Single Stroller and "Mockingbird Double Stroller" if it's a Single-to-Double Stroller.

What's included with a Mockingbird Stroller?

All Mockingbird Strollers come with the stroller frame, seat, wheels, canopy, child "bumper" bar, and attachable sunshade.

Please note, if you're purchasing the two-seat compatible Mockingbird Single-to-Double Stroller, the 2nd Seat Kit is sold separately.

What are the age and weight recommendations for a Mockingbird Stroller?

Mockingbird strollers will be ready for you from the moment your child is born, all the way through the last day of their stroller years. We have three modes of compatibility for an infant (listed below), and then once your baby has developed the proper amount of head and neck support (usually around 4-6 months), they'll be ready for the toddler seat, which they can use all the way up through 50 lbs.

Infant-compatible modes:

1. Use our Car Seat Adapter to connect your infant car seat to our Stroller

2. Use our Carriage in place of the stroller seat

3. Add the Infant Seat Insert into the Stroller's toddler seat, to provide the necessary support for an infant

If using the Mockingbird Single-to-Double Stroller with two toddler seats at the same time, the weight recommendation is up to 45 lb in each seat.

What are all the different arrangements for the Mockingbird Single-to-Double Stroller?

Here are all the positions in which you can use the Mockingbird Single-to-Double Stroller:

Which car seats are compatible with a Mockingbird Stroller?

 The Mockingbird Stroller is compatible with the following car seat models, when using our Car Seat Adapter:

- Britax (B-Safe 35, B-Safe Ultra)

- Chicco KeyFit and Fit2 (all infant car seat models)

- Cybex Cloud Q

- Evenflo (Embrace, Nurture)

- Graco SnugRide (all infant car seat models)

- Maxi-Cosi Mico (30, Max 30, Max Plus)

- Nuna (Pipa, Pipa Lite, Lite LX, rx)

- UPPAbaby Mesa (2018 model or later)

- Baby Jogger City GO 2

If you don't see your preferred car seat, please contact our Product Specialists at support@hellomockingbird.com for more information.

What is the size and weight of a Mockingbird Stroller?

The Mockingbird Single-to-Double Stroller is about 26.5 lb including the frame, seat, wheels, canopy, and basket. It measures about 25.5" at its widest point (wheel to wheel), 40" tall (from wheels to handlebar), and 33" long (from front to back wheel). When folded, the stroller is 34" tall (with the footrest rotated parallel to the floor), 25.5" wide (from wheel to wheel), and 18" deep.

 

The Mockingbird Single Stroller is also about 26 lb including the frame, seat, wheels, canopy, and basket. It measures about 25.5" at its widest point (wheel to wheel), 41" tall (from wheels to handlebar), and 30.5" long (from front to back wheel). When folded, the stroller is 33.5" tall (with the footrest rotated parallel to the floor), 25.5" wide (from wheel to wheel), and 16" deep.

What materials are used in Mockingbird Strollers?

Like everything we do, our product materials are selected with safety, functionality, and durability in mind. Our stroller frame is built with anodized aluminum to support a smooth and secure ride. Our handlebar features a leatherette grip and contains no animal by-products (which is true of all Mockingbird products). Our seat and basket are made of heavy-duty nylon, perfect for easy cleanup of any mess (and yes, there will be cleanups!).

What testing and safety protocols do you follow?

We meet (and often exceed) the highest governmental regulations set by the Consumer Product Safety Commission (CPSC) and ASTM International, most recently the ASTM F833-15 standard. Additionally, we choose to certify our products with the Juvenile Product Manufacturers Association (JPMA), and submit all of our fabrics and materials to testing for harmful substances such as lead, phthalates, mercury, and cadmium.

I'm pretty short / tall. Will the handlebar height be comfortable for me?

Our adjustable handlebar has six positions that make it workable for almost any sized parent. Kindergartners to NBA players welcome.

How do I use the sunshade?

Our sunshade is included (for free!) with your stroller, and with magnets to attach to the canopy, you'll find it's a breeze to put on and take off. It's perfect for those extra sunny days. When fully extended, the sunshade keeps the area inside the seat cool and dark, which makes for the best naps. And you can still see the little snoozer in there by lifting up the canopy's peekaboo window or unzippering the back mesh section.

What are the benefits of front-locking wheels?

Imagine pushing a shopping cart over gravel—the wheels would swivel all over the place, and it would be hard to go forward, right?  By using our front-locking levers, you can prevent the wheels from swiveling, so you'll be able to handle dirt paths, bumpy sidewalks, and even gravel with ease.

How do I clean the stroller?

Our stroller materials are purposefully resistant to spills and stains, and should effortlessly wipe clean with a damp cloth and mild detergent if needed. For the easiest care, we recommend using the Seat Liner which can be quickly removed and thrown in the washing machine again and again.