Details
Why We Love It: Our Bassinet is perfect for cozy strolls with your infant from birth and overnight sleep around the house when paired with our Bassinet Stand.

Effortless Functionality: Available in five colors with a black-and-white interior pattern for visual stimulation, our cozy infant Bassinet seamlessly attaches to the Mockingbird Stroller and Bassinet Stand. The Bassinet Stand is an ideal height for bedside use and folds flat, making it easy to store or take with you when traveling. With our foam mattress pad and full coverage sunshade, our Bassinet provides the ultimate comfort for your baby both for on-the-go or for sleeping at home when paired with our Bassinet Stand.

Age Guidelines: Age Guidelines: The Mockingbird Bassinet is designed to be used until your little one weighs 20lbs or is able to push up on their hands and knees — milestones that are usually reached at a similar time to when an infant develops head and neck control.

Size: The Bassinet is approximately 11.9lbs, 30" long, 18" wide, and 13" tall with canopy folded down. The Bassinet Stand is approximately 9lbs. Open: 31" tall, 20" wide, 30" deep; Closed: 35" tall, 20" wide, 5" deep.

Cleaning: You can machine wash removable fabrics (including the mattress pad sheet and removable basket) in warm water and mild detergent. For all other pieces (including the inner mattress pad), you can hand wash with a damp cloth and mild detergent.

Compatibility: The Bassinet is compatible with both our Single Stroller and our Single-to-Double Stroller as well as our Bassinet Stand. If you're using the Bassinet as one of two seats on our Single-to-Double Stroller, you'll also need a 2nd Seat Kit (you'll then be all set once your infant grows into a toddler, too!).

The Bassinet Stand is only compatible with our Bassinet. It cannot be used with the former Mockingbird Carriage, which is not approved for overnight sleep and will not attach to our Bassinet Stand. Our Bassinet has a larger product warning label on the interior. The Carriage has a smaller product warning label and refers to the product as a 'Carriage accessory', see here for more details. If you are still unsure if you have a Bassinet or Carriage, reach out to our Customer Experience Team for support.

Just a heads up — the Single-to-Double Stroller supports only one Bassinet at a time. If you're planning for twins, we recommend using two Infant Seat Inserts or two Car Seat Adapters (either way, you'll need a 2nd Seat Kit!).
Reviews
Customer Reviews
Write a Review
Ask a Question
Filter Reviews:
bassinet
stroller
stand
baby
walks
daughter
Mockingbird
something
floor
place
08/22/2023
Jaime M.

United States
We love it!
We love this! We keep the stand/basinet on our first floor to use for frequent newborn naps/to have a safe space to lay out little one. And the basinet easily attaches to the stroller for walks!
08/18/2023
Katie R.

United States
AMAZING
LOVE this bassinet and stand. It's so versatile. Our daughter sleeps in it at night by my bedside. We also take it with us when traveling to grandparents house. Occasionally take it with us on long trips so we can lay her in it and push in the stroller. It's worth all the money. I'm a penny pincher and my mother-in-law fell in love with it on our registry and pulled the trigger for us. I'm forever thankful she did. It's definitely being used. What mainly got us to get it, was the height! I had a planned c-section and have a high bed, so I wanted something that would reach my height of my bed to see her. It's PERFECT height!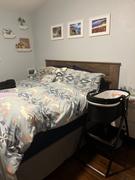 07/27/2023
Vanessa O.

United States
This is a life saver!
We use this all the time! Sits great in our city apartment and great on the go. Highly suggest getting! Sad that our baby is growing out of it!
07/26/2023
Liz T.

United States
07/25/2023
Paul T.

United States
Great product
This combo works well for us, especially since we also have the Mockingbird stroller which makes it decent (albeit a little cramped) for impromptu diaper changes or swaddling on the go. It would be fantastic if there was an option with wheels to make it easier to move to different rooms since it's clunky to move both the bassinet and the stand (either lifting both together or disassembling-reassembling). We used to move it around now we don't even bother with the hassle.