Details
Why We Love It: It's the perfect travel companion to take your newborn to the park, a restaurant, or just around the neighborhood.

Effortless Functionality: Available in four colors with a black-and-white interior pattern for visual stimulation, our cozy infant carriage seamlessly attaches to the Mockingbird stroller. With our foam mattress pad and full coverage sunshade, our Carriage is great for nap time while attached to the stroller, but please keep in mind that it is not certified for unsupervised overnight sleep.

Size: The Carriage is approximately 8.7 lbs, 30" long, 18" wide, and 23" tall with the canopy extended.

Cleaning: You can machine wash removable fabrics (including the mattress pad cover) in warm water and mild detergent. For all other pieces (including the inner mattress pad), you can hand wash with a damp cloth.

Compatibility: The Carriage is compatible with both our Single Stroller and our Single-to-Double Stroller. If you're using the Carriage as one of two seats on our Single-to-Double Stroller, you'll also need a 2nd Seat Kit (you'll then be all set once your infant grows into a toddler, too!).
Just a heads up — the Single-to-Double Stroller supports one Carriage at a time. If you're planning for twins, we recommend using two Infant Seat Inserts or two Car Seat Adapters (either way, you'll need a 2nd Seat Kit!).
Reviews
Customer Reviews
Write a Review
Ask a Question
Filter Reviews:
baby
carriage
stroller
walks
bassinet
car seat
newborn
Mockingbird
daughter
house
06/16/2021
katja m.

United States
Beautiful and smart features
This piece is beautiful and baby enjoys looking at the black and white design under the canopy. It's easy to use and comes with smart additions such as a solar shield and adjustable canopy to let air flow through.
06/05/2021
Katana W.

United States
Best decision ever!
I was hesitant on spending the extra $100 dollars for this but man I am sure glad that I did! My daughter was born 7 weeks ago and we have used this SO much. I also got the car seat adapter but I'm glad I got the carriage. It's so nice that she can just lay in there and be way more comfortable while we are out and about. You won't regret buying this!!
05/20/2021
Stephanie S.

United States
05/13/2021
Pesikan

United States
Amazing product
Great product! Carriage looks luxurious and the inside is soft and plush. Not only that but my daughter is also entertained by the stars that line the inside of the carriage cover. Could not have purchased a better product.
05/05/2021
Jennifer L.

United States
Great add on
We put this on our registry and we're really happy someone got it for us! It's so cute and I love how perfect it is for those newborn months. It's great to use to get our little one asleep on walks and easily get him back into his bassinet without having to worry about straps, etc. Also, he really likes looking at the high contrast stars on the inside!
04/14/2021
Ashley B.

United States
Safe & comfortable
This is great for your baby to ride in on long walks or when you are shopping. My baby fit well in it and she seems comfortable. She could take long naps in it while we are out and about. It's a good quality seat so that your baby doesn't have to be stuck in a car seat. Highly recommended!
04/11/2021
Michael H.

United States
Best out of five bassinets I've bought!!!
I couldn't decide which stroller I wanted, so I ordered five different strollers from a variety of brands. This is by far the best when you combine price and quality. I love the thoughtful design, the magnetic sunshade that attaches quickly and with ease. Swapping out the seat and the bassinet is also a breeze, and both stay securely in place. The fabric is thick, definitely UV blocking. I wish it came with more color options, that included the main bassinet compartment instead of just the shade having optional colors. Aside from improvements on aesthetics, this is an amazing product. Now all I need to do is wait for our baby to come!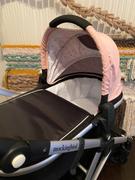 03/03/2021
Nereyda G.

United States
Great bassinet
Love this bassinet. You can remove from stroller and it doesn't collapse like uppas so you can use around house as well as on walks. Really glad we for this, wasn't sure I'd use it but we've actually Used a lot over last 6 weeks. Also the zip air vents on canopy are great for airflow especially if covered in front. Get this bassinet.