Details
Why We Love It: It's the perfect travel companion to take your newborn to the park, a restaurant, or just around the neighborhood.

Effortless Functionality: Available in four colors with a black-and-white interior pattern for visual stimulation, our cozy infant carriage seamlessly attaches to the Mockingbird stroller. With our foam mattress pad and full coverage sunshade, our Carriage provides the ultimate comfort for your baby, but please keep in mind that it is not a certified sleep product.

Size: The Carriage is approximately 8.7 lbs, 30" long, 18" wide, and 23" tall with the canopy extended.

Cleaning: You can machine wash removable fabrics (including the mattress pad cover) in warm water and mild detergent. For all other pieces (including the inner mattress pad), you can hand wash with a damp cloth.

Compatibility: The Carriage is compatible with both our Single Stroller and our Single-to-Double Stroller. If you're using the Carriage as one of two seats on our Single-to-Double Stroller, you'll also need a 2nd Seat Kit (you'll then be all set once your infant grows into a toddler, too!).
Just a heads up — the Single-to-Double Stroller supports one Carriage at a time. If you're planning for twins, we recommend using two Infant Seat Inserts or two Car Seat Adapters (either way, you'll need a 2nd Seat Kit!).
Reviews
Customer Reviews
Write a Review
Ask a Question
Filter Reviews:
baby
carriage
stroller
walks
bassinet
newborn
car seat
Mockingbird
daughter
house
06/20/2022
Marco C.

United States
Worth it
Purchased the carriage after bb was 2 months old. I needed a place to put my baby during the day when at church or at my parents house. I was nervous that he wouldn't like it or that he would be too big. He is now 4 months, and we still use it daily! We take him to the pool in it. And he can nap and just relax !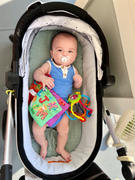 06/13/2022
Kristina M.

United States
Great Quality!
We have the Mockingbird stroller and added on the bassinet attachment after our little girl didn't love taking walks in her car seat - and she wasn't quite big enough for the regular stroller setup the Mockingbird comes with. The bassinet is built really well and does everything I could ask. The carriage itself is built beautifully, rides really smoothly and is very easy to open, close, and change attachments. Great product for the price. I'm very happy with the purchase!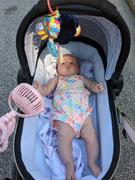 05/27/2022
Simi S.

United States
A+ bassinet
The bassinet was easy to use and comfortable for my newborn. Loved the zip covering to keep him extra warm. We used it for 3 months until he grew out of it.
04/30/2022
Jewel B.

United States
Never realized how much I needed this in my life until I bought one!
Love this and so worth every penny. So nice for baby to comfortably lay there while you're out and about.
04/14/2022
Heather C.

United States
Bassinet
We love it! We originally just had the stroller but ordered the bassinet after realizing she likes to lay flat. Im so glad we did our sweet girl loves it.
03/25/2022
Caitlin B.

United States
Bassinet Review
I couldn't be happier in my decision to purchase the bassinet. We have a newborn that we love to bring on walks with us and this is exactly what we needed for her. It's so easy to add to the stroller and is extremely sturdy as well as being aesthetically pleasing. It collapses nice for storage as well.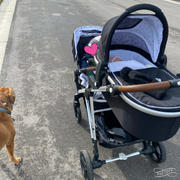 12/05/2021
Sara L.

United States
Perfect for newborn walks
This carrier came in so handy in his early days. We live in upstate NY and had a gorgeous fall season and we enjoyed many walks with our new baby in this. It's not pretty cold and we're able to bundle him and still get out.
12/04/2021
Francesca R.

United States
Best investment
The attachable carriage was a game changer for us! Our newborn loved to lay flat and it gave us the the peace of mind that she was always comfortable. It was so comforting for her that we even used it around the house while she took her naps. Additionally, we were able to easily unsnap the side hooks and carry her around without any transition during outings where the stroller base was not an option. Overall we are very satisfied with the carriage and all the Mockingbird stroller products.