Try it risk-free for 30 days.
Street style, meet street smarts.
Canopy
The UPF 50+ all-weather canopy includes a see-through peekaboo window and an attachable full coverage sunshade. High contrast black-and-white patterns on the canopy interior are designed to promote early childhood visual development (and they're cute, too).
Wheels
Go-anywhere wheels mirror the smooth ride of air tires, minus the potential to pop or go flat. A one-step footbrake and front-locking wheels mean you're equipped for almost any surface.
Seat
The seat's one-hand functions include multi-position recline and child bar release. And the connected harness makes it easy to get your little one in and out, while durable nylon is a breeze for cleanup.
Frame
Our stroller can be folded with one hand—with or without the seat attached—and it automatically locks and stands upright when folded. The dual frame and seat suspension work together for smoother strolling and a more stable ride, and the handlebar rotates to accommodate parents of different heights.
Basket
A generously sized basket holds all the essentials up to 25 lbs. A detachable front cover gives you the option of extra protection or easier access.
Modular System
Our stroller can easily switch between forward-facing and parent-facing modes, and interchange with a car seat or carriage. Bonus: Our adapter makes the Mockingbird stroller compatible with most commonly used car seats.
View Accessories
Thoughtfully designed, rigorously tested.
Support & Security
We test to ensure that your little one is safe in all upright and reclined positions, and that our locking and latching mechanisms are secure. Also, our products undergo chemical testing against both federal and state child safety limits.
Frame
The irregular surface test simulates walking over bumps for 72 hours; we test for a period of 300 hours. (That's a lot of coffee runs, right?) Our stroller also undergoes repeated impact and 10,000 simulated sidewalk curb maneuvers to ensure it can withstand any knocks and bangs that may come.
Reflective Lining & Trim
Our strollers feature strategically placed reflective material on the front of the basket and back of the seat to improve nighttime visibility. After-dark walks might just become your new favorite activity.
Wheels & Brakes
We test our brake mechanisms on both flat and inclined surfaces. We also assess the strength and stability of our wheels, even spinning them against sandpaper for miles on end to guarantee they'll stand the test of time.
Reviews
Customer Reviews
Write a Review
Ask a Question
01/15/2020
I love this stroller!
I love this stroller I have 7 kids and have had a ton of strollers and this one far supersedes all of them! From the durability to the ease of using it to the comfort for my baby I also bought the bassinet for my newborn love love love. The only thing to note is when using the bassinet attachment it's not so easy getting in and out of the bottom of the stroller. I would give this stroller 100 stars I hope they make a version that can convert to a double stroller and I hope they make something where we can use our current strollers as double strollers.
Tulani G.
United States
01/10/2020
Great stroller for NYC
I chose this stroller after being ****** in by Instagram marketing. Once I came to the website and did a little digging I realized that this is comparable to the stroller that everyone in nyc pays a fortune for at a fraction of the price. I've been using this in nyc for a month on cracked sidewalks, in Central Park, at the doctor's office and I have to say I love it. Baby sleeps through everything. I use the bassinet attachment now, though I took baby home in the Chico car seat with adaptor. Both are excellent. The wheels are great and the whole thing is easy to use. This stroller is a work horse. I don't really fold it up, but all the attachments are easy to maneuver if you need to in a pinch. I'm very satisfied with this purchase and I enjoy that I'm not using the same stroller as everyone else. I highly recommend.
BB
Brooke b.
United States
01/04/2020
Smooth Rolling :)
I've loved this stroller since I saw it and my wonderful friends got it for me at my baby shower. It wasn't too hard to put together at all and once set up it's very easy to work with (opening and folding up, adjusting various heights/bars, etc.) Love the large amount of storage space and that it works with our Chicco Infant carseat (get the carseat adapter too!). It's held up very well through several walks and trips to stores. Super happy with our Mockingbird Stroller :)
Erica S.
United States
12/30/2019
Smoothest stroller ever
I had what I thought was a decent stroller from a rebuttal department store, and then I discovered the mockingbird stroller on my timeline and decided to check it out with their 30 day trial. The quality of the stroller is outstanding and it rides like a Cadillac. Only complaint I have is you have to switch the carrier around in order to fold it down and that you have to buy the car seat adapter separate which I have not purchased yet, other than that amazing stroller!
Alex S.
United States
12/26/2019
Best stroller EVER, baby, parents love it and approve
Well, I do have an stroller that I was thinking to use, but honestly I don't want to have the baby in just the car seat when I go out (safety first-car seat is not good for the baby take naps or stay there for longer periods of time, purpose of it just to drive in a car (transportation) that's all). Well so I was looking in a good quality and great looking stroller, I was looking into the UPPA and NUNA but my husband was not into paying so much money on it. Mockingbird pop up into the feeds and I did search it, going back and forward my husband agree, I got the stroller add the bassinet, the insert and the rain cover as well. Arrive really fast and looks amazing. Using all the time with my baby, runs like a dream and lots of space. Not to heavy and fits well in my car, our most use the bassinet and my baby love it so much he always take long naps, when he's up he start looking to the white and black dots. A plus on that helping with baby's vision. Custumer service is beyond amazing. Well we so in love that we recommend if you can't pay 1,000+. You would not regret it, trust me and also a lots of compliments from people (and gets what they think you pay for the high end) mockingbird is getting a change on baby gear.
Katherine
United States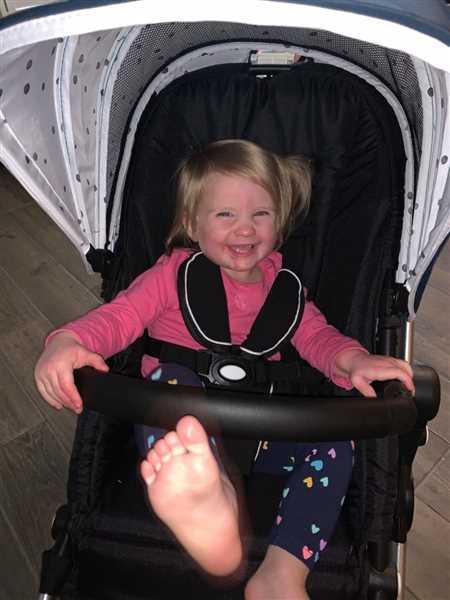 12/22/2019
Best stroller EVER!!!
This stroller is soo amazing! I can't say enough good things. I was so excited to get it. When it came one of the parts had a little issue, customer service was very quick and had a new part to me so quick. When I pull the stroller out my daughter is literally climbing out of my arms to get in and go for a ride. She likes to even climb in the big basket! Soo happy I made this purchase.
Marie B.
United States
12/19/2019
I searched high and low
We were in search of the best stroller for awhile. We started off with another and it was heavy after my c section and hard to fold. This stroller, light weight, easy to fold and unfold, the wheels are strong and so smooth! When we brought our daughter home ( winter baby) I used this inside to push her to get her to fall asleep, she absolutely loved it. You can lay it flat down, on an angle or straight up. The storage is amazing when shopping! I use this at the store rather than a cart! I also love how you can flip the baby toward you or away! I get compliments every where we go, I've had some pregnant moms ask to try it. It's a quality stroller for an incredible price.
BR
Brittany R.
United States
12/13/2019
My favorite stroller and the best quality
This is hands down an amazing stroller. It rides so smoothly and it's so easy to fold. The quality is incredible especially at the price point you get it at. It also looks nice I get lots of compliments from moms and they always ask me where I got it.
JS
Joshua S.
United States
FAQ's
See All
What's included with the Mockingbird Stroller?

Our Mockingbird Stroller comes with the stroller frame, seat, wheels, canopy, child safety "bumper" bar, and detachable sunshade.

What are the age and weight recommendations for a Mockingbird Stroller?

Our versatile stroller can be used from birth up through 50 lbs. There are three compatibility modes for infants 0-6 months:

- Use the Mockingbird Car Seat Adapter to connect your infant car seat.

- Use the Mockingbird Infant Seat Insert in our stroller seat.

- Use the Mockingbird Carriage in place of the stroller seat.

What is the size and weight of the Mockingbird stroller?

Our stroller is approximately 26 pounds including the frame, seat, wheels, and canopy. It measures about 26" at the widest point; 49" tall from wheels to canopy; and 40" deep from front to back wheel. The storage basket is 28" long x 17" wide x 10" high.

Which car seats are compatible with the Mockingbird Stroller?

The Mockingbird Stroller is compatible with the following car seat models, when using our Car Seat Adapter:

- Britax B-Safe 35

- Britax B-Safe Ultra

- Chicco Keyfit 30

- Chicco Fit2

- Evenflo Embrace

- Evenflo Nurture

- Graco SnugRide (30, 35, and 40)

- Nuna PIPA

- Nuna PIPA Lite

- Nuna PIPA Lite LX

If you don't see your preferred car seat, please contact our Product Specialists at support@hellomockingbird.com for more information.

What testing and safety protocols do you follow?

We meet (and often exceed) the highest governmental regulations set by the Consumer Product Safety Commission (CPSC) and ASTM International, most recently the ASTM F833-15 standard. Additionally, we choose to certify our products with the Juvenile Product Manufacturers Association (JPMA), and submit all of our fabrics and materials to testing for harmful substances such as lead, phthalates, mercury, and cadmium.

I'm pretty short / tall. Will the handlebar height be comfortable for me?

Our adjustable handlebar has six positions that make it workable for almost any sized parent. Kindergartners to NBA players welcome.

How do I use the sunshade?

Our sunshade is included (for free!) with your stroller, and with magnets to attach to the canopy, you'll find it's a breeze to put on and take off. It's perfect for those extra sunny days. When fully extended, the sunshade keeps the area inside the seat cool and dark, which makes for the best naps. And you can still see the little snoozer in there by lifting up the canopy's peekaboo window or unzippering the back mesh section.

What are the benefits of front-locking wheels?

Imagine pushing a shopping cart over gravel—the wheels would swivel all over the place, and it would be hard to go forward, right? By using our front-locking levers, you can prevent the wheels from swiveling, so you'll be able to handle dirt paths, bumpy sidewalks, and even gravel with ease.

How do I clean the stroller?

Our stroller materials are purposefully resistant to spills and stains, and should effortlessly wipe clean with a damp cloth and mild detergent if needed. For the easiest care, we recommend using the Seat Liner which can be quickly removed and thrown in the washing machine again and again.